Page 20 - Winter 2019
P. 20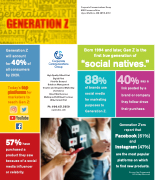 Corporate Communications Group 800 Commerce Drive
Upper Marlboro, MD 20774-8792
 Generation Z will account
for 40% of all consumers by 2020.
                               High Quality Offset Print Digital Print
Print On Demand Database Management Creative and Integrated Marketing eCommerce
Direct Mail Services Mailing and Fulfillment Services Wide Format Print
Ph: 800.651.5050 ccgcreates.com
 Born 1994 and later, Gen Z is the first true generation of
"social natives."
                                 88%
of brands use social media for marketing purposes to Generation Z.
  40% say a link posted by a brand or company they follow drove their purchase.
Today's top platforms for marketers to reach Gen Z:
                           Generation Z'ers report that
Facebook [61%] and
Instagram [47%]
are the most popular platforms on which to find new products.
Sources: Fast Company and Hill Holliday (hhcc.com)
 57% have purchased a product they saw because of a social media influencer or celebrity.