Page 16 - Winter 2019
P. 16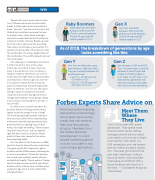 14 Winter 2018/19 FEATURE
"Brands will have to work harder to retain Gen Z followers who prefer to select which brands to follow rather than be selected by a brand," she says. "Gen Zers do not want to feel 'stalked' by brands that overmarket to them.
So brands need to study what's working in
the influence world and take that to platforms outside of YouTube channels. Brands can learn a lot from online influencers who are selling their unique merchandise so successfully. For example, the personality of the influencer sells the merchandise. The unique design helps sell the merchandise. The youthful appeal helps sell the merchandise."
One challenge in marketing to Generation Z at this moment in time is that, unlike millennials, Generation Z doesn't yet have many in the workforce. If your company is trying to market to millennials, you can hire millennials who might better understand their contemporaries. That's tough to do with Gen Z, because the oldest of them are just 22 years old. Nessel says that as they generally thrive on attention, Gen Zers are often quite willing to speak to marketers and market researchers about their buying preferences through participating in focus groups, taking online surveys, and sharing their opinions in social media.
So, what do you need to know about the purchase behavior of this generation that is largely not yet old enough to earn a living? The first thing that might surprise marketers who have had a difficult time understanding millennials is that this next generation places great importance on getting value for their money. You might be thinking, "That's because they don't have any yet," and you might be right. But there's more to the story. Nessel points to three main causes for their value- based spending habits.
First, the oldest of Gen Z were born in 1996, about the time the internet became mainstream. They grew up with 24/7 exposure to global disasters and the 2008 recession streaming live on screens everywhere. "This kind of exposure has caused some resiliency, anxiety, altruism, and definitely frugality," Nessel explains. "Having seen the harsh economic, political, and natural- disaster realities of life up close, and likely at too young of an age, Gen Z is more realistic than other generations."
Baby Boomers
Baby boomers were born between 1944 and 1964. They're currently between 54 and 74 years old (76 million people in U.S.).
Gen X
Gen Xers were born between 1965 and 1979 and are currently between 39 and 53 years old (82 million people in U.S.).
As of 2018, the breakdown of generations by age looks something like this:
Gen Y
Gen Yers, or millennials, were born between 1980 and 1994. They are currently between 24 and 38 years old.
n Gen Y.1 = 24-28 years old (31 million in U.S.)
n Gen Y.2 = 29-38 years old (42 million in the U.S.)
Gen Z
Born between 1995 and 2015, Gen Z includes those currently between 3 and 23 years old (nearly 74 million people in U.S.). Note: As with Gen Y, it is believed this generation will have two subsets as the older Gen Zers enter the workforce.
Forbes Experts Share Advice on
Detached and immersing themselves in technology, Gen Z grew up on social media and can research their way through any situation. Members from the Forbes Business Development Council shared marketing advice on how to market to this most unique generation.
#1
Meet Them Where They Live
Gen Z is the most tech-savvy generation. They spend more time on social media. Selling strategies should start on social and mobile, and include multiple touch points, with direct, no-
fluff messaging, and use various formats (video, pic posts, stories, etc.). The sales gimmicks of the past won't work here. Instead, focus on direct, individualized messaging and content with a heavy emphasis on what's in it for them. —Christopher Kingman, TransUnion.