Page 13 - Winter 2019
P. 13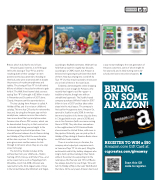 Britain, which it did by the end of June. Amazon's goal, it seems, is to fill the gap
left by the closing of Toys "R" Us and the resulting death of their catalog—an item parents seemed accustomed to handing to their kids, who were enamored with it despite the presence of nearby smartphones and tablets. The closing of Toys "R" Us left behind billions of dollars in toy sales for others to grab hold of. The Wall Street Journal cited a source saying Toys "R" Us brought in $2 billion in sales in November and December of 2017 alone. Clearly, Amazon saw this opportunity too.
The toy catalog from Amazon is called A Holiday of Play, and it is not your childhood catalog. This one has QR codes for noteworthy toys and, by using the Amazon app on their smartphone, readers can scan the codes to learn more about the toys and place orders. Amazon also offers a PDF version, which can be downloaded. Every toy in that version has
a clickable link taking users straight to the Amazon page for potential purchase. One clear difference between the old Sears catalog and Holiday of Play is that the new Amazon edition has no prices. Of course, finding the price gives users another reason to click through to Amazon, where they are one step closer to buying.
The list of toy brands includes all the
old favorites from your childhood—Hasbro Gaming, LEGO, Disney, and Fisher-Price—and some newer items, such as Fingerlings from WowWee. As of mid-2018, Amazon was reported to be the third-largest seller of toys in the United States after Walmart and Target,
according to KeyBank estimates. Walmart has held that top spot for roughly two decades, according to a CNBC report, but Amazon is believed to be growing much faster than both of them. Now by jumping into a void left by Toys "R" Us, they may be poised to move past one or both of them in the near future.
Evidently, dominating the online shopping dimension is not enough for Amazon, who recently has begun to act like—gasp—a traditional retailer, though one with an untraditional approach. The Seattle-based company purchased Whole Foods for $13.7 billion in June of 2017 and has taken other steps into the retail space. The company's first cashier-free grocery store, Amazon Go, opened in Seattle in early 2018. It now has two more locations in its home city, plus three in Chicago (with one to come in 2019) and one in San Francisco (with one more coming there in 2019). They also have somewhere
in the neighborhood of 20 Amazon Books stores across the United States, with more in the pipeline. Naturally, you can pick up the A Holiday of Play catalog at Amazon Books stores and Whole Foods markets.
There is a certain irony in Amazon, the company who helped put companies such
as Sears and Toys "R" Us into peril, filling the sentimental void felt by holiday shoppers who long to hold a printed catalog in their hands while at the same time expanding into the retail space. But Founder and CEO Jeff Bezos has always dared to try new things. Time will tell if A Holiday of Play is the Sears Wish Book of the future. At the very least, Amazon has found
a way to start talking to the next generation of Amazon customers, some of whom might be five years old, and is likely turning some old- school print lovers into online shoppers. n
Winter 2018/19
11
    BRING ON SOME AMAZON!
 REGISTER TO WIN a $50
Amazon.com Gift Card at:
ccgcreates.com/giveaway
Scan this QR code to register.