Page 10 - Winter 2019
P. 10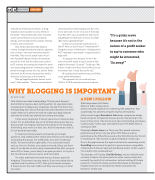 08
Winter 2018/19
COVER STORY
 embodiment of the brand's mission: to bring inspiration and innovation to every athlete on the planet." They worked with a team of leaders across various fields of science and sports, taking a universal approach to products, training, nutrition, and environment.
They enlisted their best Nike distance runners, leading biomechanics experts, engineers, and, of course, "the most innovative products" from Nike. They even let people watch live on their Facebook Page and made a documentary about it all. In the end, the effort came up short by 25 seconds, but running aficionados the world over were paying attention. And those people told plenty of average runners who lace up their Nikes after work for 30 minutes because they want to drink beer and eat pizza on the weekend.
"Nike put together athletes, trainers, and a track," Godin explains. "They've even launched a
controversial shoe that's facing a rules ban. This isn't a slam dunk. It's not 'of course.' It feels risky to do this when you can spend time and money just getting more shelf space in Sears. Oh, that's right, Sears is going bankrupt."
So how can you decide exactly whom to
talk to? How can you find your "interested few"? Using the process of elimination—deciding who is NOT important to your brand—is a good tactic to begin with.
"It's a gutsy move because it's not in the nature of a profit seeker to say to someone who might be interested, 'Go away!'" Godin says. "But if we're not able to do that, it's very difficult to say to someone else, 'I made this just for you.'"
By creating a loyal customer base, you'll likely create profits and prophets.
"My argument is if you could only have 1,000 or 10,000 customers and you could pick
"It's a gutsy move because it's not in the nature of a profit seeker to say to someone who might be interested, 'Go away!'"
                                  WHY BLOGGING IS IMPORTANT
        By Seth Godin
Seth Godin has called reading blogs "the last great bargain." And while he may be a best-selling author, he sees great value in posting on his blog every single day. He told Tim Ferris that the daily blog was "one of the top five career decisions I've ever made." Here is his advice on how to make your blog relevant and why he thinks you should start writing one today.
I write every single day. It's been years since I missed a day, in fact. For an individual, the act of writing a blog every day is a precious gift. It's magical. Everyone should do it. It's clarifying, motivating, and, sooner or later, fun. And it's important, even if it's not getting huge traffic.
To make your blog relevant and read by your target audience, stop seeking other results and only focus on that goal of reaching this group. For a B2B seller, you don't need huge traffic. You just need the right traffic. For a consumer brand, such as Oreos or Doritos, you might not need a blog, and that's okay. If you decide to start a blog, understand that after you post about 200 of them, you're likely to be glad you did it. So try for a few months and see how it goes. And write daily.
I'm often asked about brands that are doing a great job blogging. The answer is pretty simple: If you're reading a blog regularly and it matters to YOU, then you found an example. It means you're the right traffic and they are serving you what you want.
A FEW I FOLLOW
What blogs does Seth Godin
follow in order to keep up on
what's new and important in marketing? We asked him. Not surprisingly, his answers are quite original and varying.
Author and blogger Bernadette Jiwa helps companies design, build, and grow companies they are proud of by getting to the heart of their story. "She knows a lot about storytelling and shares it generously," Godin says. Her eighth book, The Right Story, is coming in 2019.
Playwright Sarah Jones is a Tony and Obie award-winning performer and writer. She has given TED Talks as well as performed at the White House and at the World Economic Forum in Switzerland. "She teaches us about empathy," Godin says.
Due to the gap between the legal world and the marketing world, DuetsBlog was created. Its goal is to promote more compatible collaboration between legal and marketing teams. Godin reads it "for insights into trademark law."
The founder of PS Audio, Paul McGowan, writes a daily blog on a variety of topics. His short posts are often controversial and normally fun and full of information, without shilling PS Audio products. "I follow PS Audio and Paul McGowan for firsthand insights into how an entrepreneur thinks and grows his business," Godin says.